⬅ Return to collection
Mid-century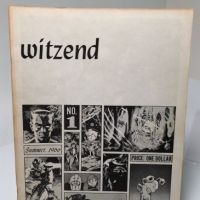 1st Issue Wally Wood Witzend Underground Comic EC and Madd Magazine Artist and Writer 1966 Near Perfect Condition
Title: Witzend
Date: Summer 1966 1st Issue
Published by : Wallace Wood
The great Wally Wood, who "…. was an American comic book writer, artist and independent publisher, widely known for his work on EC Comics's titles such as Weird Science, Weird Fantasy, and MAD Magazine from its inception in 1952 until 1964, as well as for T.H.U.N.D.E.R. Agents, and work for Warren Publishing's Creepy."
Wally Wood started Witzend in 1966, and would be the sole publisher till issue #5 when he sold the magazine to Bill Pearson. Wally Wood's name would be kept on as originator. Each issue, along with Wally Wood, showcase some of the best comic writers and artist.
The 1st issue would have the back cover by the famous and often emulated and copied artist, Frank Frazetta.
Condition: in almost near mint condition, a small bend mark can be seen on top right corner. The white is slightly aged and disclosed but the the binding and inside are in near perfect condition. Very rare and read only a few times by the original owner. Please see the images for more details.
If you have any questions or need additional information, please feel free to contact me.
Note:
Over seas buyers please email me for shipping quote, please provide me with a shipping address and postal code.
Detail photos Click to enlarge