⬅ Return to collection
Punk : 1970-Contemporary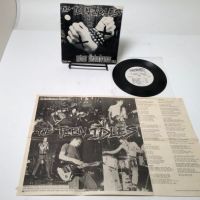 1st Pressing The Teen Idles Minor Disturbance EP Dischord No 1 Pre Minor Threat 1,000 w/ Lyric Page
Up for sale is the first pressing of Dischord Records first band, The Teen Idles
The band would have two members who would start Minor Threat, Jeff and Ian.
The band's only release, Minor Disturbance e.p.
1,000 were pressed for the 1st pressing. The thick stock sleeve which always scratched and did not wear well. This one is still in amazing condition and is in far better condition than most I have seen.
Other point for 1st pressing are:
"Band address is not printed on right side of back cover.
- Back cover has no added statement of "Thanks a lot, Jan ($ - 2nd pressing)"
- Black Flag bars are not drawn on Henry Rollins fingers on back cover photo."

A Very Rare 1st Pressing with lyric page and vinyl that is in above average condition, most are not in nearly this good of condition.
Vinyl is Vg+, plays with a slight and sometimes crackle but vinyl is full luster and shiny. Very clean between songs. Label is very clean with a tiny wear at center hole but no damage. The vinyl is very clean and sounds amazing. SIDE B has tiny pop but in time with music and does not effect the play or sound, very faint and goes away quickly. Both Sides are graded at solid to high VG+.
Listen Here
SIDE 1

SIDE 2


Sleeve is first issue with heavy stock and glued. Front has very tiny light edge wrinkles which common for all these 1st issues. Very tiny edge bumps from storage. Back has light edge bumps from storage and the edges have light wrinkles from nature of the stock and the fact it was folded and glued original. Has Original insert, left center fold is torn at seam, right lower edge has light wrinkle. Back has old tape, not effecting the front. Please see the images for more details.
If you have any questions or need additional images, please feel free to contact me.
If you have any questions or if you need additional images, please feel free to email me.

Note:
shipping cost is for US only, if you are an over seas buyers please email me your shipping address to get a shipping quote.
Detail photos Click to enlarge