⬅ Return to collection
1st Edition : Limited : Modern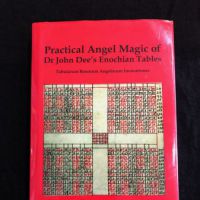 2004 1est Ed. Limited Ed. Practical Angel Magic Golden Hoard Press Hardback w/ Dust Jacket and CD
Title: Practical Angel Magic of Dr. John Dee's Enochian Tables with CD "The Angelic Revelations by Isreal Regardie with Lon Milo DuQuette
Tabularum Bonorum Angelorum Invocationes

By: Stephen Skinner and David Rankie

Published by: Golden Hoard Press, London
Year: 2004. First edition.
Hardcover with Dust Jacket
296 pp.
Black cloth with gilt title to spine and front cover, appendixes, bibliography, index. Illus. & tables.
The text in red and black
Limited Edition 635/1500 numbered copies

Size: 7 1/4 x 10 1/4 inches
Condition: near fine with tight binding and no marks inside. Dust Jacket has minor bump at the top of the spine and slight curl on the front top edge. Please image for a visual description.

From the publishers: "The authors have discovered what happened to John Dee's most important manuscript, his book of personal angelic invocations which he kept in Latin, and how it was preserved and developed by 17th century magicians into a full working magical system. How only a small part of this material reached the Hermetic Order of the Golden Dawn in the 1880's. Even this was then suppressed by the chiefs of the Order, and it did not appear in Israel Regardie's monumental work on the Order rituals. They have also traced how the classical techniques of invocation and evocation drawn from late mediaeval grimoires, were passed through John Dee's magic, via Elias Ashmole, to the aristocratic angel magicians of the 17th century, including some of the most powerful and influential figures in England."
Detail photos Click to enlarge