⬅ Return to collection
Historical Memorabilia : Mid Century Design : Mid-century
This item has been sold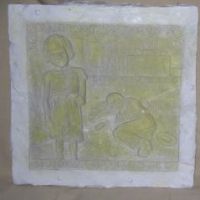 2 Grace Turnbull Large Negative Molds for Maryland Conservation Association, circa 1950's
Here is another group the estate has decided to put up for sale. These and another group that will post next will be the last pieces available from this estate collection of Grace Turnbull. These two groups are indicative of her work and represent her social and political ideals coupled with her strong Art Deco Style.
In this group of two plaster are molds for making the positives. The round one is for the Maryland Conservation Association and reads "as man sows so shall he reap". Here the the main focus is the sower motif which gives the main feeling for land conservation and at the same time indicative of Grace Turnbull's style of social political views. The diameter of the round one is approx. 12".
The square one has the mold square that is used in making the positive. This mold is one of the most striking and has a strong political message, a bit dark but still very strong piece by Grace Turnbull. This piece is also for Maryland Conservation Association but is a much darker subject. The thin young girl and the depraved drunk man laying on the street with the industrial building polluting the air and land. The bottom reads " Check Human Erosion" and the center reads " Conservation for Food not Drink". A strong message for a Conservation Association, but on par for Grace Turnbull's personal opinion on drinking and almost anit-industrial attitude.
Both molds are in very good condition with minor edge chipping. This mold is approx. 15" x 15".
If you have questions or need additional photos please contact me.
Detail photos Click to enlarge