⬅ Return to collection
Rare & Unique : Mid-century
This item has been sold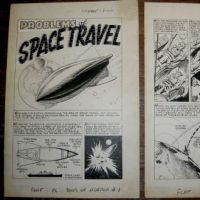 2 Pages Ed Smalle Original Art for Tales of Terror Vol 1 1952 Toby Press
Ed Smalle was a comic book artist, active for shops like Chesler and Funnies Inc. from the late 1930s through the 1950s. He did 'Ace Mc Coy' for Ace Periodicals and 'Rang-A-Tang the Wonder Dog' for Archie. He had runs on DC's 'Congo Bill', 'Cowboy Marshall', 'Real Fact Comics' and 'Rodeo Rick' and also worked for the Parents' Magazine Press (True Comics, 'Vic Hardy's Crimelab'). Other work include sports and western features for Hillman, horror, war, mystery and western stories for Marvel, Stanmor and Trojan, as well as a contribution to EC's 'Haunt of Fear'.
Date of Birth: 1912 Date of death: 1957

Title: Problems of Space Travel 2 pages from Tales of Terror Vol 1 1952 published by Toby Press ( Minoan)
Art by Ed Smalle and Ink by Ed Smalle

Size: 15" x 22"

If you have any questions or need additional information, please feel free to contact me.

Detail photos Click to enlarge