⬅ Return to collection
Art : Historical Memorabilia : 1900-1940s
This item has been sold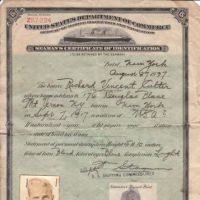 2 Pen Signed and Dedicated George Petty Esquire Prints with Documents of Recipient Circa 1930's
George Petty was one of the top Pin Up illustrator of the 1930's- 1950's. Here are two Esquire prints, one dated July 1937 and the other with no date but I would say also around the same time. Both prints are pen signed by George Petty.
The rare aspect about these two pieces and four official United States Documents is that first they are signed by George Petty who did not sign or dedicate a lot of pieces and they are dedicated to an amateur illustrator. Richard V. Cutler, was an illustrator who did some work for Red Book Magazine, The Saturday Evening Post and also Colliers. Most of his work was from the mid to late teens and then again from 1927-1929. In one Pin Up, Petty's dedication calls Richard Cutler, "Dick". The fist piece reads "To Dick A great name a real person sincerely G.B. Petty. The other Pin Up reads, " to Dick Cutler every good wish G. B Petty". Both pieces are framed and measure approx. 14 1/2" x 10 1/2" and both have small damage to edges of the heavy stock paper. Please see the photos to get a visual description of these areas. Please note, that they do not interfere in the signatures or the images of the Pin Ups.
The other pieces with this collection are 4 documents from Richard Cutler and are his discharge papers form service. One is from the United States Department of Commerce, Seaman's Certificate of Identification issued in the port of New York Aug. 27th 1937. This has his thumb print and also a photo. Another piece from the Department of Commerce is a Certificate of Service and gives him the rank of Cadet and this one is also issued in 1937. The last two documents are discharge papers and both are from the steamship "Santa Rosa". One is stamped Cot. 5 1937 and the other is stamped Jul 13 1937.
This is a very impressive collection that has a famous Pin Up artist signing to a younger Up and Coming artist. This will make a great addition to any Pin Up collector.
If you have any questions or need more photos, please feel free to email me.
Detail photos Click to enlarge