⬅ Return to collection
2nd Edition : Out Of Print : Rare & Unique : Mid-century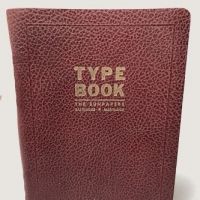 2nd Edition Specimen Book of Available Type Faces in Advertising Columns of The Sunpapers Baltimore no. 411 Presented to Gas & Electric
Title: Specimen Book of Available Type Faces Ornaments, Rule Faces, Boarders and Initials for use in the Advertising Columns of The Sunpapers Baltimore Md.
The last page has form from The Sunpapers to whom the book was presented to and numbered:
No. 411
Presented to Gas & Electric
The Baltimore Sunpapers was at one time considered a cornerstone of journalism and reporting, much like a lot of major city papers. The paper was a source of information and commerce and along with the news and editorials they generated revenue through advertisements.
Design of each paper drew people in and the art of layout was a thing that captivated the eye of the reader. So it would make sense to help institutions and major advertisers would have a source book of available Sunpaper fonts and layouts. This source book is one of the rare ones that has survived the years and use. The book has a name of "E. H. Wells" 6/17/54
State on the first page as 2nd edition.
The book is a spiral bound book with texted red cardboard and inset title on the cover in gold.
Size: 6 1/4 x 9 1/4 inches
Condition: The book is very good condition with the spirals intact. The binding is in 4 spiral sections and the first 14 pages the bottom 4 spirals the pages are loose but intact on the top. 107-140 the pages are with loose on the top spirals or lower spirals and some pages are loose. The last page on the back has written notes on layout and fonts. Please feel free to email me with questions or if you need more images.
If you have any questions or if you need additional informations, please feel free to email me.
NOTE:
The price for shipping is for US buyers only, if you are an over seas buyer please email me before purchase with a shipping address to get a shipping quote.
Detail photos Click to enlarge