⬅ Return to collection
Historical Memorabilia : Mid Century Design : Mid-century
This item has been sold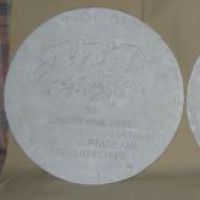 3 Original Grace Turnbull Large Plaster Paques For Juried Show circa 1950's Henry Hering Award 12"
Several Months Back I wrote an article for Sturgis Antiques announcing a collection of Grace Turnbull items I had coming in. The first group of items I had were 3 plaster cast of large Medals used in 1950's Jury Show that Grace Turnbull entered. The estate bought them and other pieces from the estate when it came up for sale a few years ago.
Here is another group the estate has decided to put up for sale. These and another group that will post next will be the last pieces available from this estate collection of Grace Turnbull. These two groups are indicative of her work and represent her social and political ideals coupled with her strong Art Deco Style.
This group of three 12 1/2" diam plaques are for 3 competitions Grace Turnbull entered. All three look to be large mock up of presentation medals.The right one is for Henry Hering Medal which is an organization for "The Henry Hering Medal - Art and Architecture Award is presented for outstanding collaboration among architects, owners and sculptors in the distinguished use of sculpture in an architectural project."
The next one is for " fine correlation of Sculpture and Architecture", which looks to be the backside of a medal since it has the "To" at the top.
The left plaster is also a possible backside of a medal, with the words " Awarded by The National Sculpture Society".
Along with this grouping the estate has a two documents that seem to go with these pieces. Please see the photos or if you have questions about them please contact me.
These Three pieces represent a particular part of this award winning and well know artist of the Mid Century.
Please feel free to contact me if you have any questions or if you need additional photos.

Detail photos Click to enlarge