⬅ Return to collection
Art : Historical Memorabilia : Mid-century
This item has been sold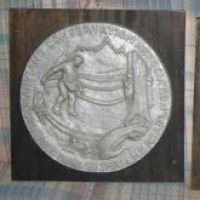 3 Original Grace Turnbull Plaster Plaques Used for Juried Show For Maryland Medals 12" circa 1950's
Grace Turnbull was one of the top Artist to come out of Maryland Instituted of Art and was considered " a member of the first generation of women artists to achieve recognition in the art field". Her work went from the the 20's and continued to the 50's doing more political minded items. Here she designed and cast three plaster medallions, all three mounted onto board and labeled on the back.
Go from Left to Right:
1. Maryland Conservation Association
2. Maryland Conservation Association for Outstanding Achievement
3. Maryland Conservation Association for Outstanding Achievement
All three have the labeled on the back with removal instructions and also artist statements about the piece.
One has the label for the juried show and gives a date of execution of 1950.
Each plaque is 14" x 14 1/2" wood with a 12" diam plaster medal.
If you have any questions or need additional information, please contact me.
I will be posting more information about Grace Turnbull and these pieces on the site's home page, please watch for this.
Please note:
These pieces are large and will have to be shipped seperate to insure safe delivery. Please contact me for a shipping quote.
Detail photos Click to enlarge