⬅ Return to collection
Art : 1900-1940s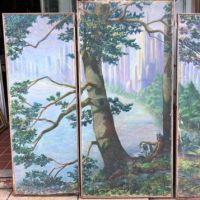 3 Panel Painting On Canvas Circa 1920's Art Deco Folding Screen Washington DC Estate
The Art Deco era bridged and brought many influences to the table. Their use of imagary, neoclassical and symbolism, their Impressionist use of color but what they were able to achieve was a new movement that thinned the painting technique. Using almost printing quality paint, fine detailing and the marriage of what was happening in the world, the new mechanized world combined with the old world of magic, culture and allegory.
This painting, a three section folding screen with the old world Greek Myth of Half Man Half Goat, Satyr relaxing in nature as the modern world of sky scrapers is the in the background.
Quite a stunning piece with the bold Pastel colors mixed with modernism.

Size:
Center Panel: 30 ½" x 65"
Left and Right Panel: 23" x 61"

Condition: As you can see the painting will need some restoration. The bottom edges appear to have been damage by water at some point and caused paint loss at the edges. Please see images for this damage. The hinges are no longer attached. The Painting is being sold as is. Please see the images for a visual description.

Due to the size of this item, it will need special delivery, Pick up is available in 21211 area code.
Detail photos Click to enlarge