⬅ Return to collection
Real Photographic Postcard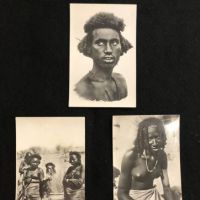 3 Vintage Real Photo Postcard Ethnographic Beni Amer & Baza Tribe North Africa Italy Printed Torino
The Beni-Amer, also known as Beni-Amir, are a population inhabiting northeast Africa, comprising a subgroup of the Beja people. They live in eastern Sudan and Eritrea. They are mostly Muslim and constitute the largest tribal confederation in Eritrea

These real photographic postcards are from a series
Number 1, 3 and 5
Printed in Italy Fotocelere Di A Campassi Torino
1. Cammelliere Beni Amer
3 Ragazze Bei Amer
5. Donna Baza

3 Vintage Real Photo Postcard Ethnographic Beni Amer Tribe North Africa Italy Printed Torino

Size: 3 1/2 x 5 1/2 inches
Condition: Very fine, slight bend to the paper. Please see the images for a visual description.

If you have any questions or if you need additional images, please feel free to contact me.

Note:
shipping cost is for US only, if you are an over seas buyers please email me your shipping address to get a shipping quote.

Detail photos Click to enlarge