⬅ Return to collection
Out Of Print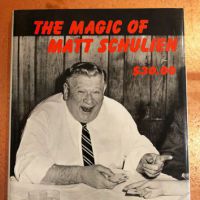 3rd Edition The Magic of Matt Schulien by Philip Willmarth Hardback w/ Dust Jacket Magic Book
Title: The Magic of Matt Schulien
By: Philip Reed Willmarth
Published By: Magic Inc.
Stated 3rd edition 1994

Hardback edition with Dust Jacket


First published edition was 1959 this amazing book shows one of the best card slight of hand masters of all time, Matt Schulien. 178 pages with four blank pages at the end.

Size: 8 3/4 x 11 1/4 inches

Condition: Fine with tight binding and no marks inside. Slight soiling on the inside of end boards, please see images. Slight soiling/ Dust to the edge of the DJ, please see the images provided for a visual description.

Detail photos Click to enlarge