⬅ Return to collection
Military Memorabilia & Art : 1900-1940s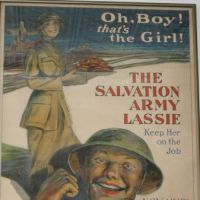 41" x 31" framed WW I Poster Oh, Boy that's the Girl The Salvation Army Lassie Nov. 11th-18th 1918
WWI Poster Oh, Boy That's The Girl Salvation Army 1918
An original Framed WW I Lithograph Poster by The Sackett and Willehms Corporaton N.Y. Made for the United War Work Campaign, this poster is one of the Iconic images produced during WWI. The image of the Salvation Army Women with the Dough Boy eating a doughnut is wonderful image. The title is Oh, Boy that's the Girl The Salvation Army Lassie keep her on the job Nov. 11th-18th 1918.
The image is framed is approx. 41" x 31" and the frame is metal with archival glass.
The condition of the poster is very good, but there are a few areas where the paper has ripped. As you can see from the photos, the largest area is at the bottom of the poster. The color is still strong and vibrant and is in remarkable condition for the age and the fact that these poster were used and not meant to be around coming up on a hundred years. Wow, in eight years, this poster will be 100 years old!!!
If you have any questions or need additional photos, please fee free to email me. Please note there is a reflection on the glass when I photographed the poster and this is not in the poster.
Detail photos Click to enlarge