⬅ Return to collection
Antique Accessories : Mid Century Design : 1900-1940s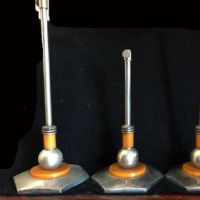 4 Art Deco Chrome and Catalin Industrial Design Stands 4 1/2 inch Wide Base
Art Deco era stands with butterscotch colored Catalin spacers and turned metal design.
The disc and ball, a classic Art Deco era Industrial design with a great early plastic, Catalin.
A brief background of Catalin:

"Catalin is a brand name for a thermosetting polymer developed and trademarked in 1927 by the American Catalin Corporation, when the company acquired the patents for Bakelite. A phenol formaldehyde resin, it can be worked with files, grinders, and cutters, and polished to a fine sheen.
Catalin is produced by a different, two-stage process, than other types of phenolic resins, and does not contain fillers, such as sawdust or carbon black. Catalin is transparent, near colorless, rather than opaque. Unlike other phenolics, it can be produced in bright colors or even marbled. This fact has made Catalin more popular than other types of Bakelite for consumer products.
Catalin is heavy, quite greasy in feel, and as hard as brass. It is heat resistant and does not soften under boiling water. Like Bakelite, it gives off a distinctive phenolic odour when heated and can be tested using Simichrome[clarification needed], which turns from pink to yellow. Due to oxidation, older Catalin items darken in color; white discolors to yellow. This caused interesting effects in radio cabinets made from Catalin. Catalin radios were often made in stylish Art Deco designs and are sought after by collectors."

Size: The bases are measure approx. 4 1/2" wide and the rods are in two sizes.
Condition: Very fine, I have not cleaned or altered the chrome or catlin in any way. Please see the images provided for a visual detail.

If you have any questions or if you need additional images, please feel free to email me.
Note:
shipping cost is for US only, if you are an over seas buyers please email me your shipping address to get a shipping quote.
Detail photos Click to enlarge