⬅ Return to collection
Art : Mid Century Design : Mid-century
This item has been sold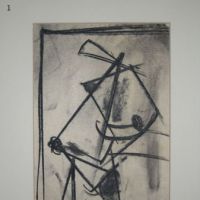 6 Original Charcoal Sketches by Hans Hofmann Circa 1947 Provencetown Art School
In 1933 he opened the Hans Hofmann School of Fine Arts in New York City, and in 1935 opened another school in Provincetown, Massachusetts. Known as the "Dean of the New York School of Abstract-Expressionist Painting," Hofmann taught many aspiring artists who became quite well known in their own right, including Ray Eames, Helen Frankenthaler and Jane Frank, to name a few.
There are many gallery and museum exhibitions that have been produced on the subject of Hofmann as not only an artist, but also a teacher. He holds much esteem with the Museum of Modern Art (MOMA), which, in 1963, initiated the retrospective exhibition Hans Hofmann and His Students, a highly successful exhibit which then traveled throughout the United States, South America and Europe.

Sturgis Antiques is very proud to have six original Hans Hofmann charcoal sketches from his Life Drawing class in Provincetown, Mass., circa 1947-48. My client's father was a student of Hofmann for a couple of summers in Provincetown and has recently come forward with these amazing pieces. Each charcoal sketch is a critique of the father's work, which was drawn at bottom of the page. Sadly, my client's father was not a very promising artist, attracting much critique from Hofmann, but he still preserved these artful criticisms and captured a wonderful moment of Hofmann's creativity.
The pieces that are up for sale feature only Hoffmann's criticism, not the full-sheet drawing from the class. The father thought his art was not worthy, or good enough, to keep. As you can see from the photos, the paper was cut from a larger sheet, showing a glimpse of the father's attempted life-model study.
At the request of the estate, I will be selling the six drawings as a group, not as individual pieces.

Each photo will be marked with an identification number and the first image will have the approx. size of the page. The drawings are mounted to a foam board with two pieces of linen tape at the top edge. No repairs have been done; no replacement of tape or foam board.

Also included in this collection, is the father's personal 8mm footage of Hoffmann's studio and family taken during the two years the father worked at the studio.

To further authenticate these drawings, I have included a still of Hoffmann in the studio showing the estate's claim. If you are interested in seeing the 30+ seconds of film, please email me so I can send you the video.

If you have any questions or need more information, please feel free to contact me.

Detail photos Click to enlarge