⬅ Return to collection
1900-1940s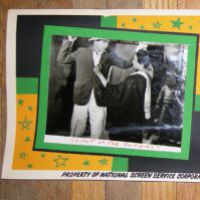 7 Each 1947 8 x 10 Press Photos w/ Presentation Matts for Revolt of The Zombies Movie
7 each 8 x 10 press photos for REVOLT OF THE ZOMBIES. Originally released in 1936 and re-released in 1947. Here with original theater Presentation Matts.
The bottom of the photos, written in red grease pen is name of the movie.
The back of the images has the date of 47.

All 7 of the images are masking taped in to matts.

If you need additional images, please feel free to email me.
Detail photos Click to enlarge