⬅ Return to collection
Mid-century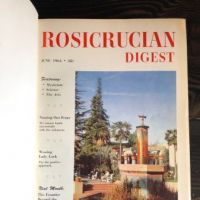 A Bound Collection of Rosicrucian Digest Magazine From June 1964 and assorted dates to October 1975 15 Total
Rosicrucian Digest Magazine bound in hardback end boards.
List of Magazine:
June 1964, November 1965, August 1966, March 1973, March 1974, April 1974, May 1974, June 1974, July 1974, August 1974, September 1974, October 1974, November 1974, December 1974, October 1975.
Rosicrucian Digest Magazine was.." The Rosicrucian Digest, the outer organ of the Ancient and Mystical Order Rosae Crucis(AMORC), is one of the oldest occult magazines being published in the Western world, having been established in the early 1920s. The Digest continues The American Rosae Crucis, the original periodical established by H. Spencer Lewis (1883-1939) in 1915 when he opened the AMORC." and .."The Rosicrucian Digest is built around a set of feature articles expounding upon various Rosicrucian themes. The order traces its origins to ancient Egypt"
Each magazine has articles relating to spiritual awakening and experiences and techniques to achieve higher wisdom.
Size: 9 1/2 x 11 1/2 x 2 inches
Condition: Stitched together and all issues are in very good condition with slight age marks. The issues are complete but haven been altered to fit and bound together in one volume. The end boards are half Moroccan leather with applied marble paper. The back of has some white marks from paint or another product. Please see the images for more details.
If you have any question or need additional images, please feel free to contact me.
NOTE:
International orders. Shipping will be $26. Please contact me before purchase if you are an International buyer. I will need to adjust the shipping price to reflect a correct shipping cost to you.
Detail photos Click to enlarge