⬅ Return to collection
Daguerreotype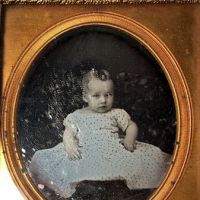 A Early Sixth Plate Daguerreotype of Baby Baltimore Photographer Signed Pollock Circa 1850
From my previous post about the Baltimore Photographer Pollock:
Daguerreotype by Henry Pollock, prominent Baltimore photographer from 1849-1889. According to resources and directories, Pollock was active starting in 1849: 147 Lexington (1849); 155 Baltimore (1850-1867); 44 Lexington (1868-1886); 9 E. Lexington 1887-1889).
According to ssdagers.com.."Embossed case pad "POLLOCK/ 147 Lexington ST./ BALTIMORE" for earliest Images; mats blind-stamped "POLLOCK BALTo." after move to Baltimore Street location."

Pollock must have been an amazing photographer. First his daguerreotypes have amazing and great details, his camera a set up must have been state of the art and his plates must have been made with precision. There are so many moving parts to making a daguerreotype, the camera, the proper plate making, exposure and ability to develop. The first two were left up to another person in most photographers cases. Pollock must of had a strong working knowledge of the process and the materials needed because all the images I have seen by him are incredible. This young child, the image is crisp, hard to do due to the fact the exposure was 20- 40 seconds. The child is hand tinted with the dotted dress being hand tinted and the arms, legs and face also being tinted, making the image appear more lifelike and also allows the image to jump out.
Size: Sixth Plate 2.75 x 3.25 inches (7 x 8 cm)
Condition: the image looks very good but the glass cover has what appears to be a oil or something under the glass. It is not effecting the daguerreotype. There is slight tarnishing to the edge of the image. The Mat has small dots on the left and right. the case has small break on the bottom left and top left at the seam. The image is still sealed. Please see images for more details.
If you have any questions or need more images, please feel free to email me.
NOTE:
The price listed is for US. If you are an overseas buyer please email me your shipping address before purchase to get a shipping quote.
Detail photos Click to enlarge