⬅ Return to collection
1st Edition : Mid-century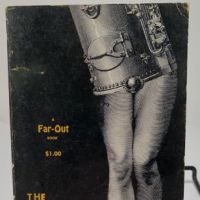 A Far Out Book The Boiler Maker by Akbar del Piombo Art by Norman Rubington Collage Art 1961 Paperback 1st Edition
A great Avant Garde book from 1961 by Akbar del Piombo called The Boiler Maker
1st Edition
This great collage book, art by Norman Rubington and story by Akbar del Piombo was very inspired by the Dadaist Max Ernst and his small surrealist books done the same way, cut and collaged Victorian era images. Ernst did these in the 1920's but the 1960's had a rebirth or a continuation of the what the Dadaist strove to convey in the late teens to early 20's into the Surrealist movement, the absurd and commentary of the world around them. Yes, the world was a joke and the art should reflect how contradiction and hypocrisy was such a part of life and living.
The Title is The Boiler Maker and is by Akbar del Piombo and was published by The Citadel Press in New York and Olympia Press in Paris in 1961
This small art mass market paperback book is one to be read a few times and images to be seen over and over agian.
Size: 7 x 4 3/8
Condition: fine with some signs of use and wear to the pages. The pages are tight but has signs of use. Minor wear to the cover's spine, the front is fine with light bumps to the edges. The back has very light soiling and light rubbing from Shelf Wear. No writing of damage to the pages inside. Please see the images for more details.
If you have any questions or need more images please feel free to contact me.
NOTE:
The price for shipping is for US buyers only. If you are an overseas buyer please contact me before purchase to get a shipping quote. Please provide me with your shipping address.
Detail photos Click to enlarge