⬅ Return to collection
Mid Century Design : Mid-century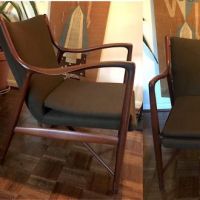 A Pair of Fin Juhl NV 45 Niels Vodder Cabinet Maker Chairs With Knoll Fabric Bought From Georg Jensen inc. 1955
A Signed Pair of Finn Juhl NV 45 By Cabinet Maker Niels Vodder Copenhagen Denmark Design Finn Juhl Original Fabric By Knoll
Chair NV45 was shown at the Cabinetmakers' Exhibition in 1945 furniture and included a desk and sofa designed by Finn Juhl and was made by Niels Vodder and Sturgis Antiques is proud to have a chair of these iconic chairs with the production burn mark of Niels Vodder on both chairs. The Chairs were bought from Georg Jensen inc. store in New York, and included is a photos of the owner catalog when they bought the chairs circa 1955.
Finn Juhl arm chair known as 45 was designed in "…In the Autumn of 1945, Finn Juhl presented the 45 Chair at the annual Cabinetmakers' Guild Exhibition. Today, the chair is widely regarded as one of the most revolutionizing and iconic pieces within Danish furniture design. Finn Juhl dreamt of studying art history and his deep understanding of international contemporary art is abundantly clear in the bold 45 Chair. With its curved backrest and organic shape this chair cemented Finn Juhl as one of the leading designers of the 20th century."
From the Finn Juhl website a review of the chair from the exhibition stated Erik Herløw wrote…"Most interesting about the exhibition is probably Finn Juhl's work. After many years of experiments, we now see a clarified result. Finn Juhl does not design on a refinement of traditions but has instead logically solved functions and therefrom shaped furniture on his terms. In the early years, Finn Juhl's attempts seemed exaggerated, but now it is so much more interesting to observe the result he has achieved by going his own ways. Most beautiful is an armchair, where the frame is organically shaped as a bone, able to support the muscles of an arm and the weight of a body. The expression of the chair is reminiscent of a weapon, sharpened by human hands."
Year Made Circa 1955
Designer: Finn Juhl
Maker: Niels Vodder
Both Chairs have identical makers mark, but one chair's burn mark is slighter than the other.
Both chairs were bought at the same time, circa 1955 and have been together in the same environment since they were bought. The Fabric is not original but is original Knoll fabric, both chairs are done by a licensed Knoll upholsterer.
Condition: Kept and well stored and preserved, both chairs are in excellent condition with both chairs showing slight and faint wear on the legs. One chair has minor bumps on the arm at the edge. Not a visual mark but you can feel slight bumps on the that arm. All joints are tight and fabric has very minimal wear.
Please see the images provided for details and if you have any questions, please feel free to email me.
NOTE:
Due the size, these chairs will need special handling and delivery. Please contact me to arrange pick up or for a specialized shipper. Please email me your shipping address to get a delivery quote.
Detail photos Click to enlarge