⬅ Return to collection
[uncategorized]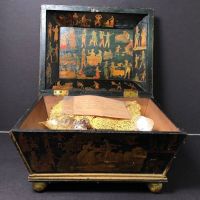 A Rare Cabinet of Wonders 1840s Shell Collection in Mid 19th c. Decoupage Sarcophagus Box with Handwritten Note
A collection of shells from a Ship's captain voyage, note dated 1840's all in a Mid 19th C. Decoupage Sarcophagus Box.
The collection came from a client whose relative was a merchant ships captain, Captain Snow from Baltimore MD. Over the years I sold items from this estate including log books, paintings of the ship and items from the ship. It was a wonderful collection and the captain started in the early 1800's, his journey taking him to France and other Eastern European ports.
This collection of shells come with a note and knowing the family and their history, this is a beautiful collection of shells, many you do not see much anymore.
What stands out is the box, this hand made Sarcophagus box as they are called, has been decoupaged with images cut from magazines of the era, circa mid 1880's. As you can see, the images inside are in near perfect shape, the box being closed has preserved the decoupage.
Outside, has some wear but you can see see the images.
Decoupage has been around for centuries, the French brought the practice the mainstream in 17th c. but it was more in fashion in America towards mid 1800's and really exploded in the last quarter of the 19th c.


This amazing small cabinet of wonders has been in my collection for years and has always captivated me, the age of collecting strange and exotic shells was truly a wonder it's day.
Size: the sarcophagus box is 8 x 10 1/2 x 13 1/2
Condition: A small piece of trim is missing on the left side. The top of the box has aging and wear with the images being darkened, images on the side are clearer and the images inside are in near perfect condition. The Shells are in remarkable condition with no issues. Please see the images for more details.
If you have any questions or if you need more images please feel free to contact me.
NOTE:
The price listed is for US. If you are an overseas buyer please email me your shipping address before purchase to get a shipping quote.
Detail photos Click to enlarge