⬅ Return to collection
1st Edition : 1900-1940s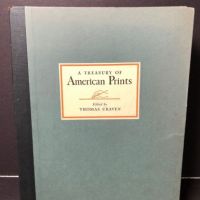 A Treasury of American Prints Edited by Thomas Craven Hardback Spiral Bound 1939 Simon and Schuster
A Treasury of American Prints Edited by Thomas Craven
This Hardback Spiral Bound was published in 1939 by Simon and Schuster. The Editor Thomas Craven was an American author, critic and lecturer, who was an early supporter of Thomas Hart Benton and other American Regionalism. The movement that gave rise to what a lot of people call WPA artist, the artist who were employed by FDR and his New Deal to help America move out of the Great Depression. These artist would be the main figures of the Regionalism movement with prints, mural and public art being the main focus.
When Craven was asked to be the editor of this book, he was well aware of the artist and their significance to the art form.
Published in 1939 by Simon and Schuster. the book has 49 artist with many artist being exampled more than one time. The book was designed to be pulled out and framed,.." The prints in this volume have been made detatchable, so that those who may wish to remove one or more favorites, for framing, may do so without impairing the appearance of the book as a whole." (Publisher's Note).
No pages have been removed and each image is in very strong and crips condition.
Size: The book is 10 1/4" x 13 1/4"
Each print measures 9 1/2" X 12 3/4"
Condition: very fine with damage to the pages or art, a small pencil number is on the first page on the top right. The binding is fine, you can see on the inside cover, slight wear to the paper on the spiral binding. Cover is very fine with minimal signs of use, a slight fade to the front. Back is very fine. Please see the images for more details.
If you have any questions or if you need more images please feel free to contact me.
NOTE:
The price listed is for US. If you are an overseas buyer please email me your shipping address before purchase to get a shipping quote.
Detail photos Click to enlarge