⬅ Return to collection
Rare & Unique : 1800s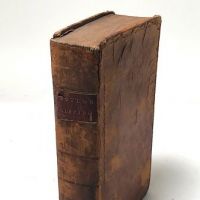 A Treatise of the Law Relative to Merchant Ships and Seamen by Charles Abbott 1810 Edition Published by Edward Little & Co. Newsburyport 

A Treatise of the Law Relative to Merchant Ships and Seamen by Charles Abbott from 1810

In Four Parts:
I. Of the Owners of Merchant Ships
II. Of the Persons Employed in the Navigation Thereof
III. Of the Carriage of Good Therin
IV. Of the Wages of Merchant Seamen

Year: 1810 (stated published 35 years after Independence)
Published by Edward Little & Co. Newsburyport
Printed by Charles Norris & Co.
"The Second American, from the Third London Edition, with Annotations written by Joseph Story, esq. Counsellor at Law.
Full Leather bound edition, original binding, 656 pages
On the inside page states, the clerk of Massechusettes, states the 35th year of independence, states the right to reprint this book in accordance to the Congress law of "act of encouragement of learning or securing Maps, Charts and Books…"
Size: 8 9/16 x 5 1/4 x 2 inches think

Condition: leather is worn with marks on front and back, edges are bumped with some curl ing and corners have rubbing. Top of the spine edge is worn exposing binding, and bottom of spine edge has light wear. Spine's title is worn and chipped and is loose. Binding is worn but intact with staining on the first few pages, Light foxing on the first few pages and last 50 pages. Previous owner's name on first fly page in iron ink. Please review the images provided for more details and if you need more images or specific areas photographed, please feel free to email me.

Noted:
Overseas buyers please email me for shipping quote, please provide me with a shipping address and postal code.
Detail photos Click to enlarge