⬅ Return to collection
Historical Memorabilia : 1800s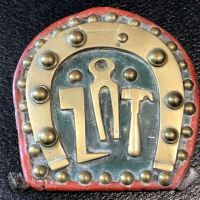 A Very Rare Antique Tradesman or Military Martingale for Blacksmith Farrier Circa 1860s
A great martingale, circa 1860s, most likely used for a blacksmith farrier who had this as part of his horse drawn wagon, a mobile farrier.
Martingales were used to stop a horse head from moving too far up and were also used has an emblem on front of a horse. Very strange to see a martingale with the tradesman insignia but one therory is that this was used by a tradesman, a farrier who was possibly once in the military or possibly this was used in the military, the Civil War. By the style and construction, this martingale appears to be circa Civil War era.
If this is a tradesman martingale, that would be very unique and the farrier would have been quite stylish with his wagon and horse showcasing his trade all to see.
Either as a military piece or a tradesman item, a rarely seen Blacksmith Farrier emblem.
The construction is of course leather, with the tools and horse shoe being made of cut and polished brass. The pieces are held in place with pins on the back of the leather. The leather is trimmed in a red dyed leather boarder with brass dome tacks. The cut brass horseshoe and tools, tongs, hammer and knife are very detailed and all the items are instantly recognizable, so the tradesman or military person had artistic skill.
Size: 5 3/4" tall x 5 1/2" wide.
Condition: very good with some obvious marks from age and use. The left side of the bottom of the horseshoe is split but appears to have always been that way. The leather is dry but intact and still in great condition. As you can see from the images, this is in remarkable condition based on its function and the age. Please see the images for more details.
If you have any question or if you need additional images, please feel free to contact me.
NOTE:
The price listed is for US buyers only, if you are an overseas buyer please email me your mailing address before purchase to get a shipping quote.
Detail photos Click to enlarge