⬅ Return to collection
Modern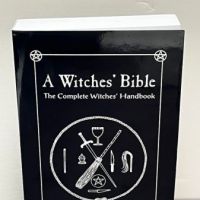 A Witches' Bible by Janet and Stewart Farrar 1996 Softcover Edition by Phoenix Publishing NEAR PERFECT
A Witches' Bible by Janet and Stewart Farrar
Softcover edition
Year: 1996
Publisher: Phoenix Publishing
349 Pages
"The Complete Witches' Handbook.Everything you need to know is here! The Sabbats; Casting & Banishing the Magic Circle; The Complete Book of Shadows; The Great Rite; Initiation Rites; Consecration Rites; Spells; Witches' Tools; Witchcraft & Sex; Running a Coven; Clairvoyance;Astral Projection. This collection includes two books in one volume, Eight Sabbats for Witches and The Witches' Way, and is the most comprehensive and revealing work on the principles, rituals and beliefs of modern witchcraft."
Condition: Near New, no writing or damage to the pages and the binding looks untouched. A small bump on the top left and bottom right of the back cover. Very small and minor. Please see the images for more details.
Please feel free to email me with questions.
Note:
shipping cost is for US only, if you are an over seas buyers please email me your shipping address to get a shipping quote.
Detail photos Click to enlarge