⬅ Return to collection
Stereoviews
This item has been sold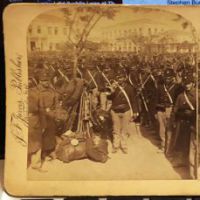 A. F. Jarvis Published Stereoview 1897 Turkish Soldiers in Larissa Square
Title: Public Square at Larissa, two days before its capture by the Turks
"During the Greco-Turkish War of 1897, the city was the headquarters of Greek Crown Prince Constantine. The flight of the Greek army from here to Farsala took place on April 23, 1897. Turkish troops entered the city two days later. After a treaty for peace was signed, they withdrew and Larissa remained permanently in Greece. This was followed by a further exodus of Turks in 1898."

Year: 1897
Publisher: J. F. Jarvis ( copyright by Underwood and Underwood)
Size: 7 inches
Condition: fine with slight fade to the image. strong crisp image

If you have any questions or if you need additional images, please feel free to email me.

Detail photos Click to enlarge