⬅ Return to collection
Ambrotype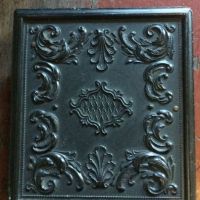 A. P. Critchlow Thermoplastic Daguerreotype Case Ambrotype of Two Young Dressed Girls Sixth Plate
Sixth Plate Thermoplastic Union Case by A. P. Critchlow & Co. with
Two young girls dressed in plaid dresses, almost matching, with a great painted wood backdrop. Very fine crisp image in a near perfect Thermoplastic Union Case.

The Case is made by A. P. Critchlow Co., and are.."the original inventor of the composition for the Union Case, include all the various shades of color and fineness of texture peculiar to their manufacturing and the embracing Riveted Hinges….patented 1856"

Size: Sixth Plate: 2.75 x 3.25 inches
Condition: The thermoplastic case in very good condition, very small hairline at the hasp and very small and tiny marks to the edge in areas. This can only been seen when closely inspected. Please see images of the details. The case is missing the felt insert on the left side. The Ambrotype is very crisp and clean.

If you have any questions or if you need additional images, please feel free to email me.






Detail photos Click to enlarge