⬅ Return to collection
Ambrotype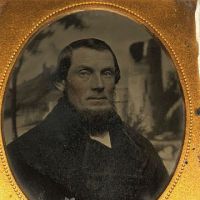 A. W. Judson Photograph with Painted Backdrop Ambrotype of Nautical Looking Man Circa 1860
Labeled Photograph by A. W. Judson from Milford Mass., circa 1860's Simple Brass mate puts this in the early part of case images, since later most photographers go with the highly decorative and ornate mates.
Under the image is the photographers original printed label, please see images for details.

Size: Sixth Plate: 2.75 x 3.25 inches (7 x 8 cm)
Condition: fine with minor emulsion loss to lower left side, please see images.

A wonderful Ambroytpe of an older man with a Detailed and elaborate painted backdrop.
The backdrop looks like an abandoned castle surrounded by trees.
The man, with a full sculpted beard wears a think double breasted Pea Coat style wool coat.
Amazing and fine detail in this little image.


From a database of Daguerreotype Photographers, "A. W. Judson..Active as a daguerreian on Central Street, over Heath and Dyer's Store, Milford, Mass., 1856. He lived on Main Street. An identified image stamped on the inside of the case reads "A.W. Judson, Daguerreian Artist/ Milford, Mass.". He was also listed there in 1860."

If you have any questions or if you need additional images, please feel free to contact me.

NOTE:
Over sea buyers, please contact me with your shipping address to get a shipping quote. Price listed is for US buyers only.

Detail photos Click to enlarge