⬅ Return to collection
Medical & Oddities : Military Memorabilia & Art : 1800s
This item has been sold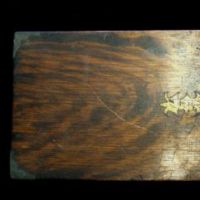 A Civil War Amputation Set with CDV of Baltimore MD Field Surgeon Under General Hancock
A New estate has proved to be an interesting collection of Antique Civil War Era Medical instruments. Included in this collection will be different types of Lancets as well as a fine example of a Civil War Amputation set. This set is not complete but does have a CDV of the possible owner, Carl Theodore Trautmann The information on the back has a small written bio of the of Carl Theodore Trautmann, M.d.. The Bio of the doctor is written posthumously, circa 1930's most likely by the Grandsons.
The CDV states he graduated University of Maryland in 1863, but the U of MD records states he graduated in 1862. I can find no record of the his death but the photos says he died in 1874 in Germany.
The photo states he served under General Hancock, who was the Union War Hero in the battle of Gettysburg. Searching I did find "C. T. Trautman's service as a surgeon in the Second Regiment"

This Field Amputation set has been used and some pieces are not original to the set, but all have been used. Please see the photos for a visual description of the items.

If you have any questions, please feel free to email me.

Detail photos Click to enlarge