⬅ Return to collection
1st Edition : Out Of Print : Rare & Unique : 1900-1940s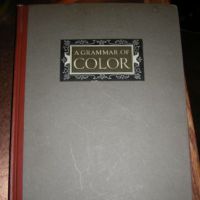 A Grammar of Color A.H. Munsell STRATHMORE PAPER COMPANY 1921 1st ED. HDBK
A rare and wonderful book, a color book of printing by STRATHMORE PAPER COMPANY.
The purpose was "intended to explain the Albert H. Munsell color system and then show how it can be applied".
......"illustrated text explaining the color dynamics by principle and applications, as well as two plates engraved by Rudolph Ruzicka showing balanced and unbalanced color and 19 folding sample color sheets of Strathmore papers that demonstrate various color combinations."

Published in 1921 in hardback form, the inside is beautiful with lush and rich and vibrate color on the decorative pages. A remarkable book that has been a collectable for printers, artist and antiquarian dealers for years.

Condition: minor scuff on the cover with small water spot on the top right corner, one page as a small tear, please see image. Tight binding and minor bumps to the spine.
Size: 13" x 8 3/4"
Contents: 19 sheets to fold out to reveal the color choices plus 30 page introduction

If you have any questions or need additional images, please feel free to contact me.



Detail photos Click to enlarge