⬅ Return to collection
Albumen : Snapshots
This item has been sold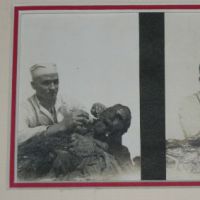 A Pair of Photos of a Egyptologist Dissecting a Mummy
Yes you are not seeing double, same man and same Mummy but the man doesnt have a hat on in one pose.
Appears to be an Egyptologist posing.
No information on the front of the photos, both photos are mounted on black paper
Both photos are mounted to a page each photo is approx. 2 3/4" x 4 1/4"

If you have any questions or need additional images, please feel free to email me.
Detail photos Click to enlarge