⬅ Return to collection
Jewelry : 1900-1940s
This item has been sold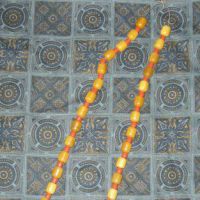 A Period Art Deco Catalin Necklace with Butterscotch Colored Cylinder Beads and Red Spacer Beads
In the 1920's, Art Deco was at the height of its influence and appeal. The invention of "modern" plastics and its use in Jewelry, applied arts and objects was everywhere. The modern plastics at the time were Catalin and Bakelite; both were prevalent in the materials of Art Deco objects. This is true in the Jewelry of the period that opened the way for new bold colors and stylish geometric designs.
This necklace is very similar to the other necklace I have up for sale, Large Butterscotch Beads with small orange spacer beads. This Catalin necklace has small cylinder style butterscotch beads and small red spacer beads and is also strung with fishing line. All the beads are intact and will look great restrung with a cord of your choice. The necklace is approx. 14" long and has 35 butterscotch beads and 34 red spacer beads.
If you have any questions or need additional photos, please feel free to email me.

Detail photos Click to enlarge