⬅ Return to collection
Jewelry : 1900-1940s
This item has been sold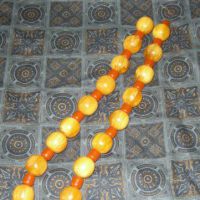 A Period Art Deco Catalin Necklace with Large Butterscotch Colored Beads and Orange Spacer Beads
In the 1920's, Art Deco was at the height of its influence and appeal. The invention of "modern" plastics and its use in Jewelry, applied arts and objects was everywhere. The modern plastics at the time were Catalin and Bakelite; both were prevalent in the materials of Art Deco objects. This is true in the Jewelry of the period that opened the way for new bold colors and stylish geometric designs.
Here is a simple yet bold piece, large butterscotch beads with smaller orange spacer beads. Unfortunately, the original cloth does not string this Catalin necklace together. The necklace was saved intact and restrung with clear fishing line. The necklace is approx. 14" long and has 19 Large Butterscotch beads and 18 small orange spacer beads.
A nice black silk or another color of your choice would do this piece a world of difference and allow you to wear this Period Art Deco Catalin Necklace around.
Please email with questions or if you need additional photos.


Detail photos Click to enlarge