⬅ Return to collection
Medical & Oddities : Music & Pop Culture : 1900-1940s
This item has been sold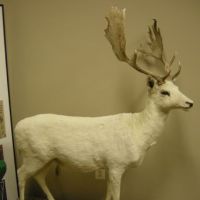 A Rare Museum Mount Full Taxidermy White Fallow Buck Deer, circa 1940s
From the same estate as the nutcrackers, here is a full museum mount White Fallow Deer.
The Fallow Deer is mostly found in Eurasia but have been introduced else where.
This mount is in wonderful condition and stands on a wood platform
The fur is in good condition with only very minor spots of fur loss, please see the photos.
Size: 74" tall x 51" long x 20" (widest dimensions)
deer 53" long x 47" tall to the top of the head and the rack is approx. 20" tall x 23" wide.
Condition: very good with no signs of breaks.
Note:
Due to the size of this piece, this item will need to be pick up or have transportation arranged.
If you have any questions or need additional information, please feel free to contact me.

Detail photos Click to enlarge