⬅ Return to collection
Albumen : Snapshots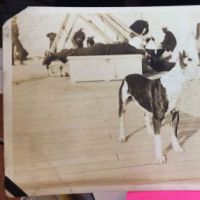 A Real Photographic Postcard WWI Pit Bull on Ship
The American Pit Bull was once looked at with pride, now not so much, but these dogs are a amazing loyal and friendly!!

So WWI soldiers took them into battle and also had them as friends and protection but they were also a sign of America, so it would make sense they were used in on all areas of the Military during WWI.
This one is on a ship, you can see the sailors in the background but the main figure is the Pit Bull.

Size: 3 1/2 x 5 1/2
Condition: fine with slight soiling on the image. The edges have photo tabs stuck to the edges. Nothing is on the back, unused photo postcard.

If you have any questions or if you need additional images, please feel free to contact me.

Detail photos Click to enlarge