⬅ Return to collection
Art : Posters : Mid-century
This item has been sold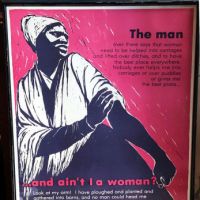 A Very Rare "And Ain't I a Woman?" Poster by Ann Grifalconi 1971 Abolitionist Sojourner Truth
A very Rare "And Ain't I a Woman?" Poster by Ann Grifalconi 1971 Abolitionist Sojourner Truth

1st Edition offset lithograph, over seen by the artist, Ann Grifalconi in 1971.
Ann Grifalconi's poster design for the moving and poignant speech she gave in defense of Civil Rights and Anti Slavery address. A very rare piece that has not been in public sales very often. This comes from an on going estate with many Black Power and Civil Rights pieces that Sturgis Antiques has had the honor to broker.

Size: Print 23 x 32 inches
Frame 24 x 33 inches

Condition: very good with very minor fade, the post has been sealed and framed since the 1970's. Please see images for details for a visual description.


Production Notes: This is the first version with pink background, production overseen by Ann Grifalconi. Second version is a cream background and the production was not overseen by Ann Grifalconi.

Background:
Sojourner Truth born Isabella (Belle) Baumfree (c. 1797 – November 26, 1883) was an African-American abolitionist and women's rights activist. Truth was born into slavery in Swartekill, Ulster County, New York, but escaped with her infant daughter to freedom in 1826. After going to court to recover her son, in 1828 she became the first black woman to win such a case against a white man.
"She gave herself the name Sojourner Truth in 1843 after she became convinced that God had called her to leave the city and go into the countryside "testifying the hope that was in her"

"Her best-known speech was delivered extemporaneously, in 1851, at the Ohio Women's Rights Convention in Akron, Ohio. The speech became widely known during the Civil War by the title "Ain't I a Woman?," a variation of the original speech re-written by someone else using a stereotypical Southern dialect; whereas Sojourner Truth was from New York and grew up speaking Dutch as her first language. During the Civil War, Truth helped recruit black troops for the Union Army; after the war, she tried unsuccessfully to secure land grants from the federal government for former slaves."

If you have any questions or if you need additional images, please feel free to contact me.

NOTE: please contact me for a shipping quote please provide a shipping address to get a quote.
Detail photos Click to enlarge