⬅ Return to collection
Art : Military Memorabilia & Art : 1800s
This item has been sold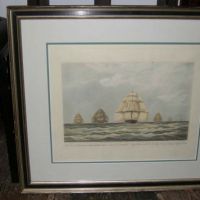 A Very Unique W. J. Huggins Colored Engraving of The Trial of R.Y.S. Brig Water Witch 1834
A mid 19th century hand colored engraving by W. J. Huggins and engraved by C. Rosenberg. A unique perspective and very out of the ordinary for the time period, this engraving depicts the Water Witch.
The title is "Trial of the R.Y.S. Brig Water Witch on the 5th Sept. 1832 off the Scilly Islands with the H.M.S Vernon, Donegel, Stag and Snake"
The information under the engraving reads "Painted by WJ Huggins Marine Painter to his Majesty and Published by him at 105 Leadenhall Street August 12th 1834".
The print is in very fine shape and the frame is a tasteful ebony frame.
If you need additional photos or need additional information, please feel free to email me.

Detail photos Click to enlarge