⬅ Return to collection
1900-1940s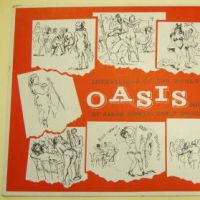 Aaron Sopher Illustrated Large Postcard Oasis NightClub Baltimore The Block Strippers & Burlesque
Oversized Postcard for Oasis Nightclub, circa 1930's-1940's illustrated by Baltimore's Aaron Sopher (1905-1972).
The postcard shows Glamor, Nightlife and Debauchery the Club was famous for.

Size: 6 1/2" x 10 1/4"
Condition: Vg with minor bump to corners. Image is strong and bold. Please see the photos for visual description.

The Oasis, was one of the early and legendary nightclubs of Baltimore's "The Block"
Bought in 1927 by Max Cohen, the Oasis was already an existing Nightclub of an earlier time, but Max Cohen brought a new approach and air to the joint. His slogan that ran for years was,
"The worst show and the best time in the world."
Max Cohen's success gave him the ability to buy the whole block on which Oasis was located.

A quote from Stephen Hull, a writer about The Block which I thought was one of the best footnote on the history of Oasis: "Max is full of cute angles. In 1937 he hired a lady bouncer by the name of Mickey Steele, a six-foot acrobat from the Pennsylvania coal fields. Mickey was always considerate of the people she bounced; first asking them where they lived and then throwing them in that general direction. She was succeeded by a character known as "Machine-Gun Butch," the current incumbent."

If you have any questions or need additional images, please feel free to email me.

NOTE:
I have 5 additional pieces for sale of this item. Please inquire if you are interested in more than one.

Detail photos Click to enlarge