⬅ Return to collection
Antique Accessories : Antique Furniture : 1800s
This item has been sold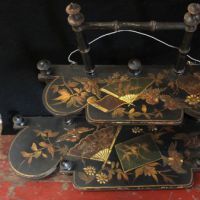 Aesthetic Movement era Japanese Black Lacquered and Painted Shelf Circa 1890's
Aesthetic Movement era Japanese Black Lacquer Shelf Circa 1890's
Two Tier shelf with Japanese Painted Lacquer with Birds, Flowers and Fans

The Aesthetic Movement which corresponded with the Orientalist movement..."is an intellectual and art movement supporting the emphasis of aesthetic values more than social-political themes for literature, fine art, music and other arts. This meant that Art from this particular movement focused more on being beautiful rather than having a deeper meaning—'Art for Art's sake'. It was particularly prominent in Europe during the 19th century, supported by notable figures such as Walter Pater and Oscar Wilde, but contemporary critics are also associated with the movement, such as Harold Bloom, who has recently argued against projecting social and political ideology onto literary works, which he believes has been a growing problem in humanities departments over the 20th century."

This late 1800's export for the western market is a simple hanging two tier shelf.

Size: 20 wide x 13 1/2 inches
Condition: fine with minor chip on the lower shelf, does not effect the decoration. The gold lacquer is in fine condition, some soiling. I have not cleaned or altered this piece, please see the images for a visual description.


If you have any questions or if you need additional images, please feel free to email me.
Note:
shipping cost is for US only, if you are an over seas buyers please email me your shipping address to get a shipping quote.

Detail photos Click to enlarge