⬅ Return to collection
Jazz : Mid Century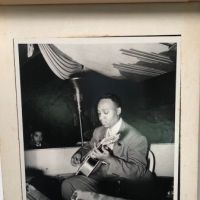 Al Casey Fats Waller Guitar Player Jazz Orchestra Photograph Frank Driggs Collection
Photograph of Al Casey Playing Guitar with Fats Waller from the Collection of Frank Driggs.
Another Great Image from The Frank Driggs Collection that a local Baltimore Jazz Concert Promotor had in his collection.
"Frank Driggs (January 29, 1930 – September 20, 2011) was an American record producer for Columbia Records and a jazz historian and author, known as well for his collection of over 100,000 pieces of jazz music memorabilia including photographs"
Baltimore Concert Promotor of Jazz, John Brown had a relationship with Frank Driggs and was able to get images sent to him for his research and sometimes concert promotion. John Brown was a small time Jazz Drummer who was active in the 1940's to early 60's playing and sometimes setting up concerts for acts.
Al Casey: "Albert Aloysius Casey (September 15, 1915 – September 11, 2005), known professionally as Al Casey, was an American jazz guitarist who was a member of Fats Waller's band during the 1930s and early 1940s."
Post Fats Waller, Al Casey would lead and record a great handful of recordings from the 1960's up til his death in 1988, his last recording would be in 1985.
The image is a print from Frank Driggs, dry mounted to board with tissue paper cover and paper cover. The image is printed on semi mat paper and is a crips and detailed image. Notice Fats Waller at the piano, staring intently at Al Casey as he is hammering out his lead. Sharp and crisp details of the photo shows the moment Casey hammers on his guitar. The back is labeled From Frank Driggs Collection and identifies Al Casey.
Size: photo is 8 x 10. Board is 10 x 14 inches
Condition: Very fine with very light markings on the white board. Please see the images for details
Detail photos Click to enlarge