⬅ Return to collection
1st Edition : Out Of Print : Rare & Unique : 1900-1940s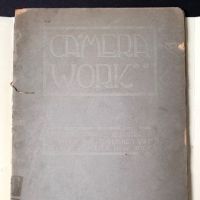 Alfred Stieglitz Camera Work Special Number Issue June 1913 Uncut Pages Issued at the time of the 1913 Armory Show
The armory show was pivotal art show in American, the show broke the statement academic realism and exposed people the the current art movements in Europe, Fauvism, Cubism, and Post Impressionist artist like Cezanne and Van Gogh, and new artists like Marcel Duchamp and his controversial painting "Nude Descending a Staircase".
The show also included many African and "primitive" art pieces, many of them being the influence behind the Cubist abstraction.
FIRST EDITION of the Special Number issue of Camera Work, this is a complete issue with 8 reproductions, including 3 by Cézanne, 1 by Van Gogh, 3 by Picasso, and 1 by Picabia. With original text by Gertrude Stein, Mabel Dodge, Gabriele Buffet, Maurice Aisen, Benjamin De Casseres, Oscar Bluemner, and John Weichsel.
Original Front and Back cover

Issued at the time of the 1913 Armory Show in New York the issue has some of the art in the show, Plates entitled (in the order they appear) CÉZANNE: Portrait, CÉZANNE: Nudes, CÉZANNE: Still-Life, VAN GOGH: Landscape, PICASSO: Portrait—Gertrude Stein, PORTRAIT: Woman with Mandolin, PICASSO: Drawing, and PICABIA: Star-Dancer on Board a Transatlantic Steamer.
Also included are articles entitled "Portrait of Mabel Dodge at the Villa Curonia" by Gertrude Stein, "Speculations" by Mabel Dodge, "Modern Art and the Public" by Gabriele Buffet, "The Latest Evolution in Art and Picabia" by Maurice Aisen, "The Renaissance of the Irrational" by Benjamin De Casseres, "Audiator et Altera Pars: Some Plain Sense on the Modern Art Movement" by Oscar Bluemner, and "Ecce Homo" by John Weichsel.
Condition: The cover is faded and has chipping at the edges. The binding is intact but weak. Pages prior to the plates are uncut. Light water stain on the inside bottom area of spine. Back has chipping and some loss to the back cover, lower left has broken off. Pleases see the images and please feel to email me with questions or if you need more images.
Detail photos Click to enlarge