⬅ Return to collection
Mid-century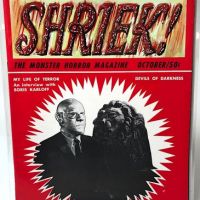 Almost Mint Copy of Shriek! no. 2 August 1965 published by House of Horror
Shriek! no. 2 August 1965 published by House of Horror
**Sames Estate as the other Pre Code Comics listed**
Title: Shriek! no. 2
Date: August 1965
Pub by House of Horror
In the Vain of Famous Monsters of Filmland, this short lived horror magazine tried to compete, more B movie stuff but no less great to see behind the scenes and articles! You can just look at the pictures too!!
Condition: Almost Perfect! The cover is almost mint, crips cover and bold colors. The back is almost perfect, white and very clean. The binding is tight and appears to be unread.
If you need more image please tell me what areas you need photographed.
If you have any questions or need additional information, please feel free to contact me.
Noted:
Over seas buyers please email me for shipping quote, please provide me with a shipping address and postal code.
Detail photos Click to enlarge