⬅ Return to collection
[uncategorized]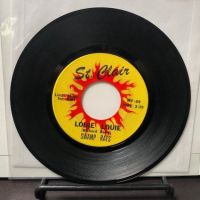 Amazing Garage Single by The Swamp Rats Louie Louie b/w Hey Joe! St. Clair MF 69 Pittsburgh PA Garage
Swamp Rats Louie Louie b/w Hey Joe! St. Clair – MF - 69


The Swamp Rats were a garage band from Pittsburgh, Pennsylvania and sometimes known as Bob Hocko and the Swamp Rats but recorded under Swamp Rats.
They released a number of singles in 1966 & 67, the band achieved regional success with singles cover versions of popular songs and choosing two of the best know garage tracks of their time, their single is considered one of the earliest examples of proto-punk.
Take a listen to the tracks
SIDE 1

SIDE 2

Condition: Vinyl is visual VG but sound is low VG+, SIDE A has slight crackle but faint and once music kicks almost no heard. SIDE B plays the same both sides have a couple very light marks but not affecting the tracking. Great record with a lot of life left in this single.
If you have any questions or if you need additional images, please feel free to contact me.

Note:
Over seas buyers please contact me before purchase with postal code to get a shipping quote. Shipping cost posted is for Domestic shipping only.
Detail photos Click to enlarge