⬅ Return to collection
Mid-century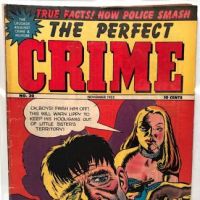 Amazing Precode Comic The Perfect Crime No. 30 November 1952 Published By Cross
The Perfect Crime No. 30 November 1952 Published By Cross
**Sames Estate as the other Pre Code Comics listed**
Title: The Perfect Crime No. 30
Date: November 1952
Pub by Cross
Condition: The cover is in remarkable condition with minor wear to the spine edge with a slight sign of use. The Back Cover is very clean with
only 10 in pencil on the top. No chipping on the edges and only a slight wrinkle at the spine. The binding is tight and the pages are white with bold colors.
If you need more image please tell me what areas you need photographed.
"Steve Duncan in "The Fighter and the Fixer," "The Hottest Car," "Private Entrance to…Death" (art by Chas Rodgers), "The Hottest Alibi in Town," and "The End of a Good Thing." Two page text story, "The Green Goods Game."
If you have any questions or need additional information, please feel free to contact me.
Noted:
Over seas buyers please email me for shipping quote, please provide me with a shipping address and postal code.
Detail photos Click to enlarge