⬅ Return to collection
[uncategorized]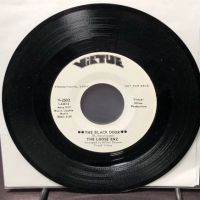 Amazing Promo Single The Loose Enz The Black Door b/w Easy Rider on Virtue V-2502 Heavy Organ Garage Single NM-
The Loose Enz, a York Pa. band on Virtue, NM-. White label promo with two killer heavy organ garage, close to The Doors without sounding like a copy. The second song is what you have been waiting for, heavy fuzzed guitar and dirty with a twirly organ, just think of Velvet Underground mixed with The Doors.
The band had only two singles, the first one was 1967 and this one, The Black Door is 1968.
This is their second single and the rarer white label promo.
Listen to the Tracks, this single is NM- and is amazing.
SIDE 1

SIDE 2

Condition: Vinyl is low NM-,looks and sounds amazing and very clean, no marks. A sometimes faint crackle but very low and not heard when music kicks in. SIDE B has tiny hairline but no tracking issues and the songs is very clean and amazingly clean.
If you have any questions or if you need additional images, please feel free to contact me.

Note:
Over seas buyers please contact me before purchase with postal code to get a shipping quote. Shipping cost posted is for Domestic shipping only.
Detail photos Click to enlarge