⬅ Return to collection
Jewelry : 1800s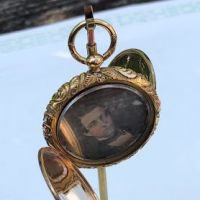 Amazingly Clear Daguerreotype Portraits of Man and Woman in Ornate Double Opening Rose Gold Case Civil War Era
Double Portrait Locket with 2 Daguerreotypes Man and Woman Rose Gold Ornate Case Civil War Era
Another fine portrait of two people, this man and woman portraits in very clear and fine detailed Daguerreotype process.
Civil War era portrait keepsake.
Each portrait is very fine, showing both elegant and youthful details, a testament to how good these Daguerreotypes are.
The case is a rose gold, approx 10-12 K gold, this allows for amazing hand detailing on the outside of the case. The fine file work on the edges and the front and back has very fine details, even the small top hasp is detailed.


Size: 1 3/4 inches wide x 2 1/4 inches tall
Condition: Near perfect and remarkably both dags are in exquisite condition, minor tarnish to the very edge of the image but does not effect either image. The Case is near perfect I have not seen any damage to the edges or hinge. Please see the images provided for details of the condition.
If you have any questions or if you need additional images, please feel free to contact me.
NOTE:
If you are International buyer, please email before purchase with your mailing address to get a shipping quote.
Detail photos Click to enlarge