⬅ Return to collection
Art : 1900-1940s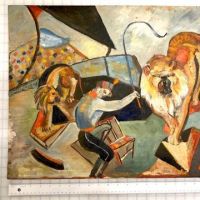 American Artist J. S. Paulus Fauvist and American Realism Style Painting of Lion Tamer and Lions in a Circus Circa 1930s
Oil on Board of Lion Tamer and Lions in Bigtop Circus, a Fauvist style painting, sometimes referred to as School of Paris in America.

Fauvism was a European movement in the early 1900's, translating to "wild beast", the style of the movement was boldness of color with expression. The movement would give rise to Henri Mattisse and Robert Delaunay, you can see both their influence and style in this piece.

The circus was once the major source of summer entertainment in America as well as in Europe but in America it would be a source of all things exotic, like the acrobats, the parade of African Animals and especially the showmanship of the Lion Tamer. The painting is a strong achievement and growth. A combination of School of Paris and American Realism, this is a beautiful painting and a bridge between Europe and American art.

The School of Paris, was the name given to the artist of the 1913 Armory Show and after up until America was able to achieve their own identity in the art world with the Social Realism of the 1930's.

The painting on board appears to be signed on the lower right, J. S. Paulus, no date or details on the back. The painting is an oil on artist board, most likely a study or possibly a merging artist. The painting shows control of movement, capturing the Lions and Lion Tamer in action. I really love the painting and how it is pained to the edge, giving the the piece a large than life show, much like the performance. The forced perspective, abstraction and cubist techniques along with the color firmly plants this in the 30's-50's era.

Size: 18 x 24 inches
Condition: The left side has a small area of damage to the margins edge, the painting needs a cleaning, I have not altered the piece. Please see the images for more details.
If you have any questions or need additional information, please feel free to contact me.

Noted:
Overseas buyers please email me for shipping quote, please provide me with a shipping address and postal code.
Detail photos Click to enlarge