⬅ Return to collection
Folk Art & Outsider Art : Historical Memorabilia : 1700s : 1800s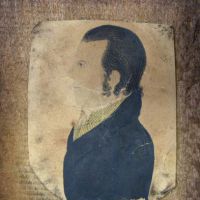 American Primitive Portrait of Thomas Jefferson Circa 1700's
Every once and awhile a item comes across my desk that is hard to decipher and to authenticate. I have tried to be as descriptive and photograph this image to help in authenticating.
As the image appears and states, from the backing paper on the frame, this is a early sketch of Thomas Jefferson at the age of approx. 18 years old.
Yes, the name on the papers is correct that Morris Keene Barroll was a student at the U O VA. No records that I have found, that there was a professor and or elder person at the Univeristy with the name, Bishop.
If Bishop was around during the time the school was established in 1817, he would have been a very old man. Since Barroll was student who graduated in 1917.

I am not authenticating but this piece does have some merit but further research would need to be done to disprove this item's claim.

Any information would be helpful

Translation on backing paper: " This Sketch was xxxxx me by Mr. Bishop when I was Student at U. VA It was made by a friend of Thomas Jefferson, Founder of the Univeristy ( center sticker: "Morris"
Thomas Jefferson was just 18 years
Morris Keene Barroll

Some research on Morris Keene Barroll, "Mr. Barroll, a member of the Kent County Bar, attended Yale University, graduated at Washington College in the Class of 1917, and took his law degree at the University of Virginia."

Wood backing has writing but is eligible. I have photographed the back with raking light as well as inverting the image with photoshop to help in deciphering this, but the only thing I can make out is "NGK".

Size of frame: 6 3/4 x 6 3/4
Size of image: 2 3/4 x 3 1/2
Size of glass mat: 4 x 5

Condition: please see images.

If you have any questions or need additional images, please feel free to contact me.


Detail photos Click to enlarge