⬅ Return to collection
Art : 1800s
This item has been sold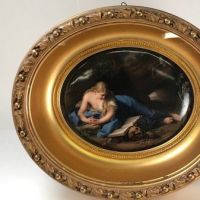 An Amazing Painted Porcelain of The Reclining Mary Magdalene Reading After Batoni In Gilt Shadow Frame Circa 1870's
Reclining Mary Magdalene Reading in the Wilderness Painte Porcelain in Ornate Oval Frame After Batoni Circa 1870's
After Pompeo Batoni (Italian, 1708-1787) a German Painted Porcelain Plaque of "The Reclining Mary Magdalene Reading in the Wilderness"
Painted on porcelain, and most likely on a KPM Porcelain plate, these late 19th century, circa 1870's painting are done with precision and execution. These small studios would have renowned and highly skilled artist working, painting on porcelain for the decorative market. Most were used for export and sold to America and other countries in the world trade of the 19th century.
Pompeo Batoni was an Italian 1708-1787, his allegorical and mythological pictures are works of beauty, fine almost realistic detail, and typical of his style and period working. His work and style is at the very beginning of the Neoclassical movement. You can see his use of the classical Italian color scheme of the royal blues.
The theme of Mary Magdalene reading the holy scriptures in the woods with a skull at the base of the book has done by many people and was a growing movement of depicting Mary as a woman seeking knowledge and spirituality. The book is the Bible, as she reads in the wilds of the woods and the skull at the base of the book is the representation of the death. Many consider Batoni's painting of Mary to be a high mark of this new growing movement of Mary. The combination of the subject and the details and craftsmanship of Batoni made his art a very sought after and studied.
The painted porcelain is mounted in a very fine deep shadow oval frame with glass. You can see the depth of the frame in the some of the images. The porcelain is mounted and sealed and lined with a fine dark decorative trim. The frame is wood and Gesso and guilt and is period to the piece.
Size: frame is approx 16. 5" length x 14.5" tall x 4 1/4" deep

Condition: Near perfect. The Guilt gesso frame has minor wear consistent to the age and the guilt has dulled in areas from cleaning. The painting appears to be in near perfect condition with no visible breaks or cracks or loss of paint.I have not taken the art out of the frame. Any marks will be noted in the description, any marks you see are from the photographing of the piece behind glass. Please see the images provided for a visual description.
NOTE:
The shipping amount is for US only. If you want additional shipping services please email me before purchase. If you are an over seas buyers, please email me before purchase to get a shipping quote. Please send me a mailing address to get a detailed quote.
Detail photos Click to enlarge