⬅ Return to collection
Art : Mid-century
This item has been sold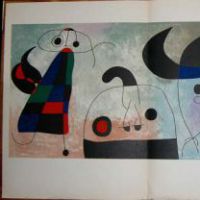 An Amazing Large Lithograph by Joan Miro from 1952 Derrière le Miroir titled On Four Walls
Derrière le Miroir was an Art Review Magazine published by Galerie Maeght. The magazine worked closely with many 20th century artists and produced lithographs licensed by the artist with the magazine producing about 1200 in their editions. This Lithograph was in the 1952 edition of Derrière le Miroir and was supervised closely by Miro.
Sur Quatre Murs / On Four Walls is piece originally done for Harvard Graduate School in 1951. Miro working with Maeght, published this upgraded work of art version for the magazine and the public.
The bold and strong colors are what you expect with Miro's work. The lithograph quality is instantly seen, with the colors overlaid in the off set shows the build-up of colors.
This lithograph is a wonderful piece that is from the mature period of this famous artist.
The image is approx 10" x 31 1/4" and has the two original folds with minimal wear.
Please contact me for more photographs or if you have any questions.

Detail photos Click to enlarge